Current Mood:

contemplative

Current Music:

"Rosemary's Baby" on T.V.
Here's a link to a good annual poll regarding True Blood characters whose creator is trying to get 1,000 respondents to this year. It only takes a minute to make your opinions heard. And it's fun!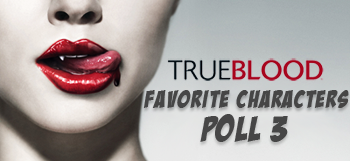 This public service brought to you by Merlotte's Bar And Grill.
OMGWTF two posts from me in one day! But, you see, I was in the middle of this one when the SCAMMY SCAM CALLER called, and I got distracted. Now, back to our regular fandom newz!
Current Location:

home

Current Mood:

calm

Current Music:

"Hannah Montana" on TV for Josie

for the last few days, before AND EVEN AFTER I log in, I have been seeing posts from ONTD on my right, and posts from various communities to which I do not belong on my left? I'm sure all of these are fine communities if you are interested in the subject matter but who exactly determined that I am--so much so that I have to review a selection of posts there before I can proceed to my own journal? It wasn't me!

Does anyone know how I turn it off? Or at least customize it so it shows communities that I actually belong to? I am not the least bit interested in ONTD but ONTD_Trueblood--now previews of that would be welcome.
"Your patronus takes the form of a Rabbit. A rabbit is known for being somewhat shy. Similarly, you tend to be quiet around others, especially new people. However, you are very bright and alert. You are good at reading people and know who to trust. You may have trouble conjuring your patronus because your mind tends to race in the heat of a battle."
This is a post to demonstrate how wonderful LJ is to my cousin Lynn. :-p
Current Location:

Lynn's house

Current Mood:

sleepy

Current Music:

silence